A few years back, these were the two work essentials which gave me an excuse to putter around.
A lightbox and magnifying loupe via digitalartistdaily.com
Photographic slides via ehow.com
One of the perks of being an editorial assistant was I was the first one to see photographic transparencies, otherwise known as trannies (yes, actually), sent by our pool of photographers--that is, when the editors were out and about in events and photo shoots. By the time they come back to the office, I already had my picks. Some made it for printing; some to the editorial cork board (our version of Pinterest). Some were saved in discs overwriting files after files until computers would no longer read them. Some I kept. Some were just plain rubbish. Those made the bin.
The lightbox and loupe were my lenses to the shoots and pictorials I couldn't go to. I got to know photographers through their visual compositions, aside from the type of film rolls they used to request from me (I've worked with some who refused to buckle down to digital photography until they really had to). Simply put, I just enjoyed and loved looking at photos before they appear on the graphic artist's editing screen.
The past few weeks, I've been posting interesting and humorous photos
on my Facebook personal blog page

found online and via my readings . I was inspired by a website called Messy Nessy Chic whose online finds are so eclectic, intriguing and gripping, I wonder if she made a pact with the devil in exchange for rare photos, snapshots and info.
I'm fascinated by photography and photos, albeit on the spectator side. Between words and pictures, the latter have an immediate impact even with just a glance, and this my editorial roots understand.
So, to create a balance between posts that I've worked very hard to write and put together, and to hold the interest of other readers, 'scrollers and scanners' and occasional online surfers, I decided to migrate my Facebook page daily posts to Blogger and start a blog project which I'll call The Week Around The World.
As much as I can, and when the prison called work doesn't get in the way, I will be sharing on a regular basis the photos that captured me for that week. Some of you who also check my Facebook page will see repeats so I beg you not to get sick of it. I'll occasionally use products of my amateur photography skills to feature scenes that nudge my curiosity and awe.
Shall we start?
This week around the world. . .
Testing The Tribute in Light in New York for the 12th anniversary of the terrorist attacks.
The skies over Crummock Water, Lake District, Cumbria, Northwest England, show first signs of autumn.
The Nocqua 2000 light strip took inventor Billy Rossini two years to develop. Fed up with surfing being only a daytime hobby for him, he was inspired by yachts he saw with underwater lights, while paddling through a Florida marina. The light strip doesn't affect the buoyancy of the board, can be used as an SOS strobe light, and is perfect for catching lobsters at night as they're attracted to the light!
For £750, you and a friend can dangle up the Bavarian Alps or a tree branch. The amount pays for a day's climbing tuition, a personal instructor who brings a safety harness and extra strength ropes, and breathtaking views. Campers up for more exciting pursuits can only bring a sleeping bag and basic dinner. For the same price, you can get holed up at The Ritz.
Planning on extending your house? Get inspired by this one from Guangdong, China. Literally took the meaning of building up.
No, they're not desperately queueing for a Birkin, Kelly or H belt. This is Project Bandaloop performing a facade ballet at the new Hermes boutique in Rodeo Drive, Beverly Hills, CA. Under the direction of Amelia Rudolph, the project is an aerial choreography of dance, sport, ritual and environmental awareness reminiscent of climbing & rappelling.
Havin' a bad hair day? Don't worry, you're not alone. Hers was so bad on a gig in Berlin last weekend, you wouldn't recognise this Icelandic pop star.
You might recall her wearing this infamous costume, errr, evening dress.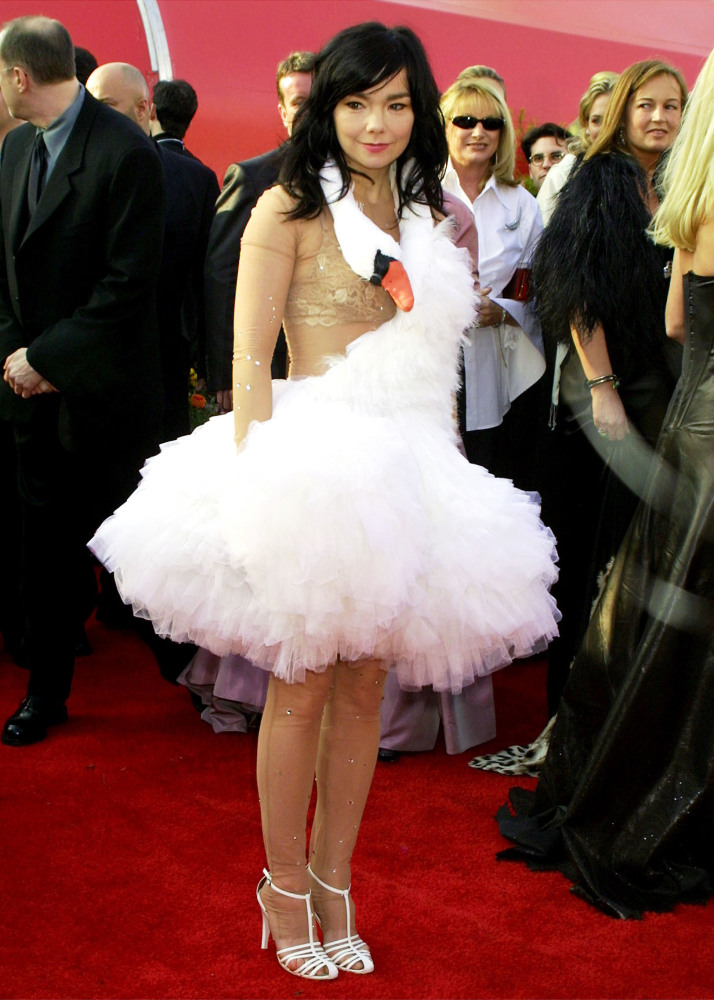 Thank you for looking!
PS. 'The Rules To Break' book giveaway is extended. All you have to do is click and read 'Which Rules Run Your Life?', leave a comment or email me via chinwagsandtattles@gmail.com. Thank you and goodluck!