Two things I wasn't very happy about this first-time trip to Salzburg: one was it was so overcast the day we were there in early May; second was we thought a day would be enough. Of course it wasn't.
From Westbahnof central station in Vienna, it took us about 2-and-a-half hours by train to Salzburg. The Zurich-bound train was delayed by more than an hour so it set us back quite a big deal.
As some of you may have read from previous posts, the Austrian trip was a birthday treat for Mr T, who as a child, was a big fan of the musical film The Sound of Music. I'm more partial to Annie but it wasn't my birthday, and New Jersey isn't exactly Salzburg.
I won't bore you with the details about the film as you most likely have seen it or at least heard of it. But what you may not know is the film was based on the book The Story of the Trapp Family Singers written by Baroness Maria Augusta von Trapp, the lead character played by Julie Andrews.
source: acriga.es
The young Maria Augusta von Trapp (nee Kutschera)
source: telegraph.co.uk
The real von Trapp family, with Maria Augusta in her later years (front row 2nd from right).
source: romancemeetslife.com
The von Trapp family in The Sound of Music.
Waiting for the hop on/hop off Sound of Music/City Tour bus outside the Salzburg Hauptbahnhof or central station. Buses came every 30 minutes.
Not sure if the job was reserved for them, but only women drove the tour buses. They were very friendly and engaging.
The first stop was at Mirabell Gardens and Mirabell Palace. Above is the entrance to both where an explosion of colourful tulips greets you.
Inside Mirabell Gardens. You can see Hohenwerfen Castle from a distance in the hazy backdrop.
The fountain in Mirabell Gardens where Julie Andrews (as Maria von Trapp) and the children sang Do-Re-Mi. Ok, don't start singing it now.


The movie scene.
Mirabell Palace
built in 1606.
A closer look at Hohenwerfen Castle, which was built between 1075 and 1078. The castle and fortress can be reached via the Festungsbahn. We also missed the Nonnberg Abbey where Maria von Trapp was a postulant.
source: telegraph.co.uk
What the view would have been from Nonnberg Abbey.
My paparrazi shot of Leopoldskron Palace and lake.
That's better. Tourists are not allowed inside or closer to the palace.
A scene from the movie overlooking the lake.
Leopoldskron Palace was the von Trapp villa in the movie but the real one--though large and comfortable--was not as grand, and located at Traunstraße 34, Aigen which is one of the most expensive residential areas in Salzburg.
source: oprah.com
Maria and the children paddling along the lake, wearing the clothes she made out of her bedroom curtains.
Trying to get a good shot of Hohenwerfen Castle while the bus was moving.
An outtake from the movie.
I can never get enough of tree-lined roads in a very green space.
Another row of trees at Hellbrunn Palace Park.
Hellbrunn Palace (Schloss Hellbrunn) built in 1613 to 1619 as a day residence for the Archbishop. Despite the size, it doesn't feature any bedroom at all.
More colourful tulips at Hellbrunn Palace Park.
Getting closer to our target
Remember the pavilion in the film? Well, you're looking at it! This is the original structure used in the set of The Sound of Music in 1964. It was gifted to the city of Salzburg after filming. Restored in 1991, it's now located at its permanent home at Hellbrunn Palace Park.
You will notice that the seats have been replaced. It was locked at the time we were there, but perhaps unlocked at certain periods during the year as I've seen online photos of tourists sat inside for a photo opp.
source: prolandscapermagazine.com
Maria (Julie Andrews) and Captain Georg von Trapp (Christopher Plummer) sharing an intimate moment inside the pavilion. This is the scene where the Captain asked Maria to be his wife.
source: ladyness.com
Liesl von Trapp (Charmian Carr) and Rolfe (Daniel Truhitte) singing and dancing to the song Sixteen Going on Seventeen inside the pavilion.
source: the coast.net.nz
The von Trapps of The Sound of Music on its 40th anniversary. From L to R: Kym Karath (Gretl), Debbie Turner (Marta), Angela Cartwright (Brigitta), Duane Chase (Kurt), Heather Menzies (Louisa), Nicholas Hammond (Friedrich), Charmian Carr (Liesl), Julie Andrews (Maria von Trapp), and Christopher Plummer (Captain Georg von Trapp).
The real von Trapp family lost most of their wealth during the 1930s depression. It was around that time when the family decided to turn their singing hobby into a profession. They won the Salzburg Music Festival in 1936 and went on to perform across Europe singing Renaissance and Baroque music, madrigals and folk songs. The von Trapp family singers performed a concert tour in Pennsylvania, USA and eventually settled in Stowe, Vermont in 1942.
In 1950, the family opened the Trapp Family Lodge which still operates to these days. Check it out here
and experience Austria in Vermont.
Salzburg is indeed a very musical city and is proud to have been the birthplace of one its most famous sons, the musical genius Wolfgang Amadeus Mozart.
Even Mozart's signature was lyrical.
source: wikimedia.org
Mozart was born in 1756 at the above house at Getreidegasse 9, Salzburg.
But he lived at the above house at Makartplatz 8, Salzburg from when he was 17 years old till he was 24. His father died here in 1787.
These stairs lead to the museum, which again, due to time constraint, we were not able to visit. The house has been there for more than two centuries; I have a feeling it will still be around when we go back.
I had the privilege of meeting the man though, and finding out that he wasn't only a musician--he was also a multi-talented tradesman.
Or shall I say, he was a musician at night and a salesman for a day job?
Mr Mozart advertising, endorsing and selling Austrian pistachio chocolates.
The facial expression and body language said it all. He couldn't believe what he had to sell next.
Padlock and keys and cuddly souvenir spoof of me? Really?!
The store who especially commissioned this mannequin of Mozart, and the visual merchandiser were obviously having a laugh, but they were not far from displaying Mozart's sense of humour. According to friends' accounts, he was fond of scatological humour which he translated into music, singing crude jibes with his friends.
Mozart lived a quintessential struggling-musician lifestyle, travelling between cities aiming to have his compositions recognised, earning a pittance, feeling shortchanged for his talent, marrying a singer, dying young at 35, and rising to fame after his demise.
Here are some snapshots while walking around the city centre contemplating the next trip hoping that both time and weather will be more accommodating.
A very clean side street
Another side street
Is there a word for side street spotting? Tell you what though, Salzburg's side streets are too spotless for my spotting taste. I do like seedy-looking ones that may hide secrets.
Very interesting shutters
These shutters looked really old yet perfectly preserved.
The Rathaus or City Hall that didn't fit the frame. The ground floor houses fashion boutiques.
I'm not sure if the building to the right was Collegiate Church, located in a sprawling square. Certainly not inspiring to take photos with the weather. It was tempting to enhance everything with instagram
A cafe close to the shopping square where we would have sat down for a cuppa if not pressed for time. Outside the archway is Salzach river.
The Dirndl, Austria's traditional women's wear. It is also hugely popular in Munich where ladies wear them for Oktoberfest. Munich is a mere one-and-a-half hour train ride from Salzburg.
A shopping street leading to a church the name of which I can't recall.
At this point, I was already suffering an information and sensory overload I was having trouble remembering anything. I had to look at the Salzburg sightseeing map as I write this to recall all the Austro-Bavarian names of the attractions we saw.
The church's next to the famous Horse Bath statue or Royal Stable's wash at the base of Monchsberg cliffs. The structure was also featured in the film.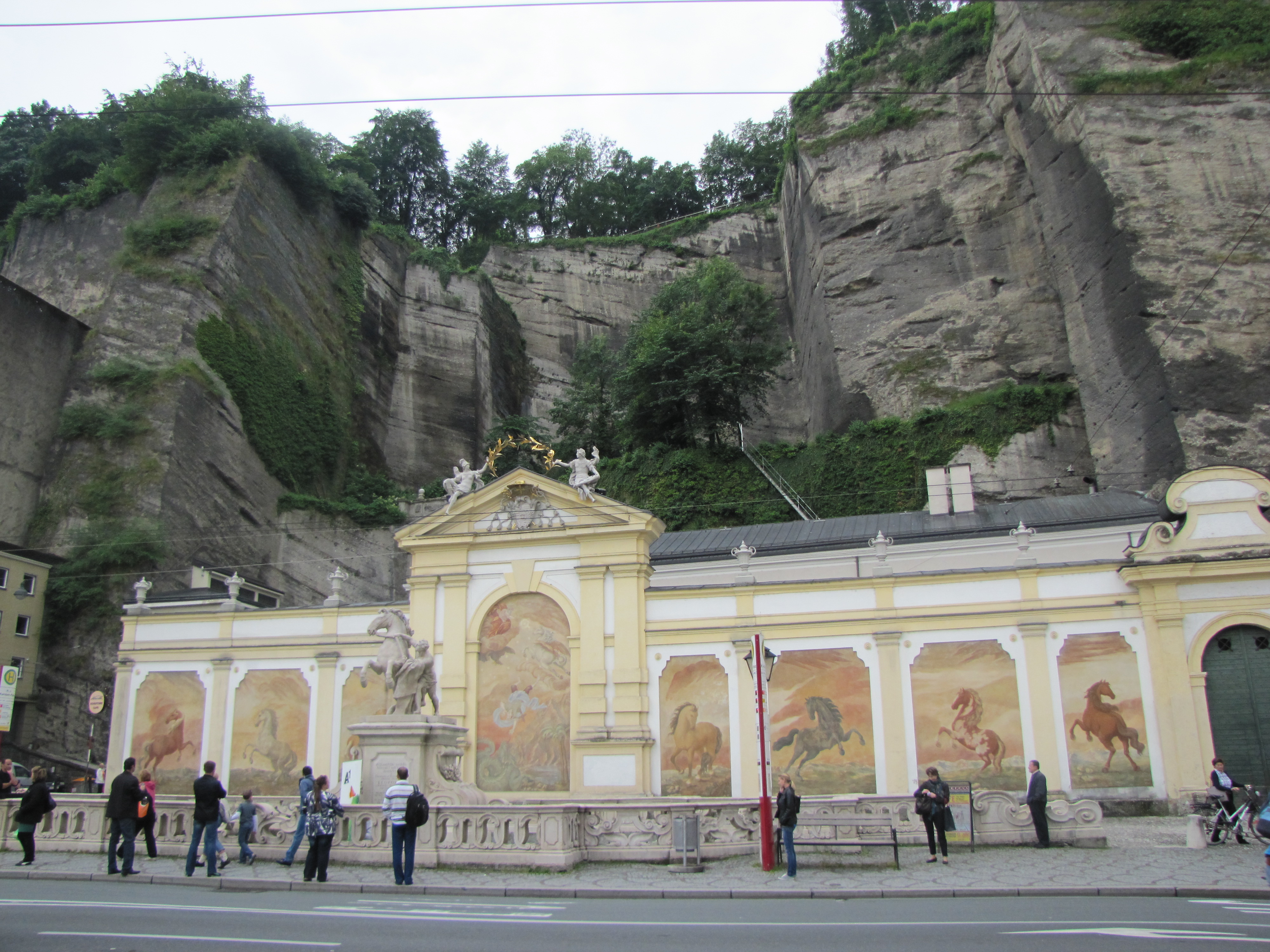 source: wikimapia.org
The Horse Bath was constructed in 1695 and was originally connected to the royal stable. The paintings depict a variety of horses' breeds and their temperament. The statue in the middle is the horse tamer which symbolises the monarch. This was where travellers washed their horses before entering the city.
I can imagine how sunlight would lift the colours to come alive.
Three things I learned and confirmed on our first-time trip to Salzburg: do take the hop on/hop off bus but allow two days for it to absorb all the audio-commentary; stay in Salzburg for at least two days; and third, sceneries are always best captured when the sun is out.
If I may borrow the lyrics of the song So Long, Farewell:
"So long, farewell, auf Wiedersehen, good night
I hate to go and leave this pretty sight."
P.S.
I heard summer has arrived. It's yet to pay a courtesy call to the UK though.
Have you made plans yet?