While entertaining family or friends at home, or in the middle of the main course while out for dinner with the same group of relations, would you actually do the following?
Gather everyone, take off your shoes, and show off your feet.
source: flickr.com
Feet off please--unless you're selling foot products.
Lay your entire dinner menu on the table from appetiser to dessert, summon everyone to have a look at them, then eat on your own.
Get on the phone or go online and tell everyone else other than the people present in the room, that you're having the best time of your life, and stay on the phone or online during the entire duration of your guests' stay.
Shove your knock-off

Hermès, Gucci and Louis Vuitton to people's faces. Or just about anything new you have, really--fake or not.
source: wikihow.com
The devil wears Prado, Guchi, Elvie, and Hermay.
Interrupt a meal or conversation to preach

lengthy recitation of proverbs and holy book passages

at the most inopportune time.
Announce to the entire neighbourhood--with a megaphone while driving around--that it's your wedding anniversary. Or post the announcement on the community billboard. Or parish church billboard. Or village hall. Or on your forehead.
Announce that you're expecting, accompanied by a pregnancy scan which serves like a receipt or proof of purchase, then pass it around as if the scan is required to go through some authentication process.
Refuse to retire when you're tired or ill, but choose instead to sneeze on everyone's dinner and sit through the night, fingers crossed that everyone's sympathies will cure you.
Take a series of selfies rather than join the conversation, then interrupt to show off your self portraits.
source: wordpress.com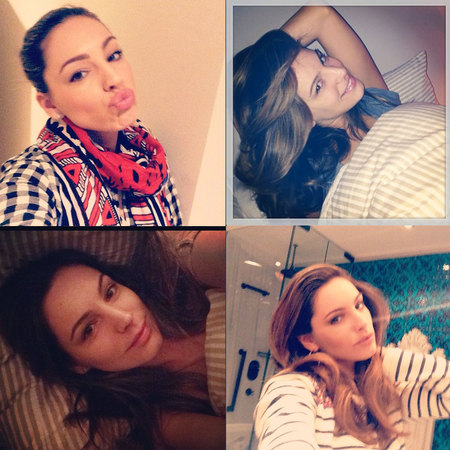 source: handbag.com
Wanted: Kelly Brook, serial selfie.
Launch a barrage of random rants about how goddamn great you are at what you do that everyone else is incompetent and inferior to you; expletives hurled at your ex or your boss or someone at your morning commute who elbowed you to a seat; cryptic messages only you can understand; spoiler alerts on games results and TV series; comprehensive run-through of yours and your children's achievements; verbal diarrhoea of unedited thoughts, and photos--the shots with no focus at all never make it to the pages of photo albums, but rather get piled up in sleeves and left forgotten somewhere in the house (remember those days?)
In the flesh, you'll most likely be labelled as either one of these, or a combination of two to three, or worst, all of it: rude, crass, self-absorbed, bereft of social decorum, irksome, up-your-posterior, patronising, and sanctimonius. On Facebook though, and/or other social media platforms, the above have become virtually acceptable to certain degrees and angles, albeit still involving some nose-wrinkling and brow-raising. Level with me--I'm sure you have done it as well: hide a friend's posts from your news feed when they consistently populate your wall with these online crimes. Offline, it's no different from wishing to the gods you won't bump into that FB friend as suffering their newsfeed hogging is bad enough.
Scott Garner, an app developer, took his own struggles with social anxiety to the exreme, by creating Hell Is Other People app. Tagged by tech websites as the world's first anti-social network, the app maps out your friends' Foursquare check-ins so you can avoid bumping into your friends. Why don't you just stay at home then, Scott? First of all, I still don't get the whole thing about broadcasting to everyone all the time where you are as if you're an electronically tagged defendant on pretrial. I thought you only check in at motels, hotels and airports. Why check in at your own home?!
I Like You In Real Life (But Not On The Internet) is a Blimey Cow-produced satirical sketch that pokes fun at some of our FB status updates. Watch the video.
In one interview, Josh Taylor, the writer of Blimey Cow, says that "The interesting thing, [though], is that people aren't showing you who they want to be--they are showing you who they want you to think they are."
Notice that the actors are juveniles? Well that's what many of us have come down to: online juvenile delinquent social butterflies with a short attention span.
On and offline, I've been coming across people who've had enough of the trappings of Facebook and are ready to hit the delete account button. But when you're like me whose family and friends are spread across continents and time zones, I'm reluctant to give up our instant access to each other's lives.
Facebook is a big neighbourhood. That family across the road has a reputation for keeping up appearances and with the Joneses. Next door is the one who only invites you to show off her new china but use the shabby ones (and they're not chic!) to serve you tea. Down the road is the couple whose PDA makes you think there should be a community ordinance banning it at certain times during the day, similar to honking not being allowed after 10pm. That svelte lady around the corner loves to name-drop and brand-drop.
But they're the same neighbours who compliment your new hair when it's your turn to be self-indulgent. Or maybe the ones two streets from yours. They're the same people whose daily goings-on distract you from your own preoccupation, amuse you, or make you cross.
Would you leave your neighbourhood just because some of your neighbours get on your nerves? Chances are you'll just socialise less and will keep to yourself more.
I am that neighbour. I'll look over my fence and watch everyone go about their lives. Or look out from my window and smile and wave to the svelte one smugly pointing to a knock-off Birkin slung across an emaciated arm. That's me clicking LIKE on facebook, not because I like her bag, but more her audacity to parade something the authenticity of which is questionable even to herself.
In a Technical Writing subject I took as part of my course credits in uni, my professor lectured that in everything that we say or write, we must be able to answer the 5 Ws: Who, What, When, Where, and Why?
source: keepcalm-o-matic.co.uk
Most importantly, when all the facts have been laid out, we must ask ourselves in the nastiest antagonist voice in our head, 'So what?'
If no substantial or valid enough answer comes up, then your status update's just rigmarole.
But if you really can't help yourself, let me thank you for giving me my daily dose of spectacle, and for opening my muse to write this post.