For such a small city, Mr. Tattler and I are already

on

the

t

hird leg of

our

Viennese trip. F

irst stop this time:
Schönbrunn Palac

e

.
Schönbrunn means

"

beautiful spring". Opened in 1699, the palace was a former imperial 1,441-room summer residence. The architecture is considered Rococo or Late Baroque. Colour schemes used were pastels with gold gilding and themes were more free

flowing and florid.
What I really wanted to see was the Gloriette which was behind

the

grand palace.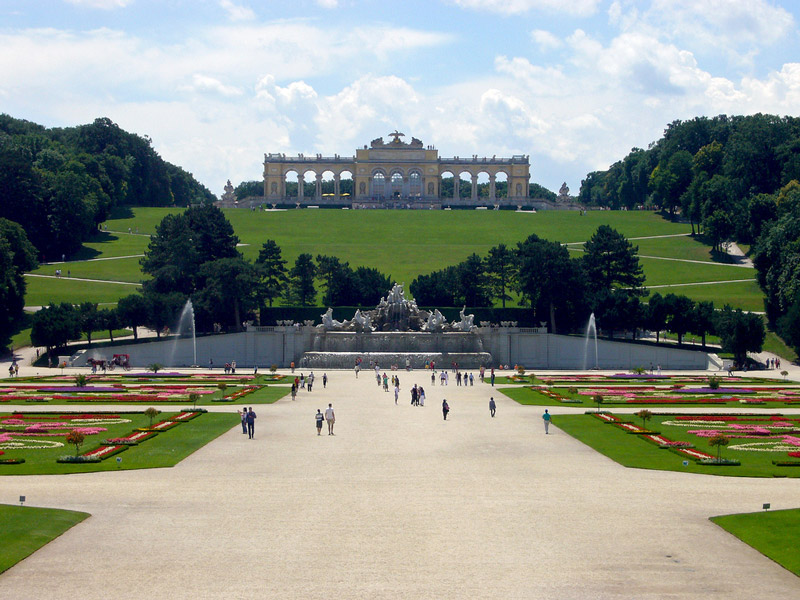 source: gardenvisit.com
It's the fountain again that gets me. The landscape befit

s

a musicale that can rival the scenery in Salzburg. I would've found myself singing 'The Sound of Music' except Mr. T will remind me

I'm in

the wrong city. We had to get into the palace to see this and we didn't have enough time for it. Another reason to go back one day soon.
I've not seen that much tourists in the whole of Vienna's city centre as the

crowd

milling around the grounds of
Schönbrunn. It could fit the entire population of the city. To be

honest,
Schönbrunn from an initial po

int of view was
a palatial boxy collection of rooms, so we decided to move on as we d
idn
't
intend to go in anyway that d

ay

. You must see the rooms to fully appreciate the architectural

beauty of the palace.
St. Stephen's Cathedra

l

is right outside the Stephansplatz u-bahn station. It's a Romanesque and Gothic structure that towers above the skyline of Vienna's city centre. The multi-coloured tiled roof is one of its best features.

Renovations were ongoing at the time, maybe in preparation for the summer tourist trade.
Stephansdom, as St. Stephen's Cathed

ral is called in German,

was consecrated in 1147.
One of the towers at night, framed by a tree that seemed not

ready to welcome

spring yet. It reminds me of Edward Scissorhands' mansion b

elow.
While constructing the u-bahn in 1972, the foundation walls of the Chapels of St. Mary Magdalene and St. Vergilius were discovered and excavated. The structures were supposed to have been demolished in 1781. A glass panel is placed in one of the exits at Stephansplatz station so passersby can view the subterranean space.
This diagram at the station gives viewers a perspective of where the chapels are located using Stephansplatz station as reference. The blue arrow points to where I was and the encircled drawing

is

where the chapels are situated.
It's believed that no other subterranean building of this type has been discovered in other parts of the world. The Vienna Museum and Old Town Preservation Fund are working together in further improving the chapels' restoration conditions so that it will be opened to the public again in the future. For now, we can only look through the glass window.
Around the corner is the fam

ed

Vienna State Opera.
The Vienna State Opera at night. Sorry about the traffic lights.
The facade at night.
The State Opera or Wiener Staatsoper, was completed in 1869 and displays a Neo-Renaissance architecture. The renowned Vienna Opera Ball is annually held here.
A performance was on the night we were in Vienna but we didn't come prepared for it. I d

idn

't think we would be allowed in with our Converse and Nikes, so we settled for al fresco.
Mr T promised he'll take me to the opera but he didn't say we'll watch from a screen outside the building. Chairs were arranged outside for the audience. It was full house. I bet half of the audience didn't even speak German but they all had the appreciative look of seasoned and sophisticated opera goers

--in their
trainers and fleece.
Vienna State Opera's version of Hollywood Walk of Fame. Surrounding the building are brass stars bearing the names of prominent conductors, opera impresarios and composers. Gustav Mahler introduced dimming the lights even during an overture and allowing latecomers only during intermission. I'm sure those w

ere just

his more humble achievements.
A mere few feet away from Vienna State Opera is Vienna's Moulin Rouge. It's a bar slash club slash disco. I know what you're thinking and I don't have the definitive answer to that. I took a photo of it for personal reasons. I know what you're thinking again

,

so, no I have not ever worked in a red house.
During a transitional period in my life, I found myself living in a big house with 5 gay men. One wasn't enough. They had to be 5. Living amongst them was equivalent to the London riots or Rodney King riots. Very tough if you're like me who considers home as

a

private sanctuary. Their 'riots' gave birth to one of the naughtiest

naming the house Moulin Rouge.
I signed up for Tesco grocery delivery and put down Moulin Rouge as the nickname of the address where my groceries had to be delivered. I remember the expression of the delivery man one day when he buzzed and I opened the door. Moulin Rouge? What

goes in

here?!
So this one goes out to

the ladies I left behind

:)
This concave structure is where the Imperial apartments, Silver Collection, Sisi Museum and Spanish Riding School are situated. This is just part of the Hofburg Palace. What I particularly loved about this building was an avenue led to it, thus the left-to-right balanced frame. Or I'm just OC

.

We walked past period buildings on each side and this sight welcomed

us.
Hofburg P
alace
is the former imperial residence. It now serves as the official residence of the President of Austria. Which led me to wonder who the man is. I wouldn't be able to name and identify him from the line-up of the usual suspects at EU confere

nces. Would you?
Just so we all know, the President of Austria is Heinz Fischer. I lo

oked up

his name

and pardon my insolence,

but

Heinz ketchup came first. Speaks volume of how Aust

rians are happy to keep a low profile.
This massive building houses the Hofburg Congress Centre, Austrian National Library, Papyrus and Ephesus museums, Collection of Ancient Musical Instruments, Collection of Arms and Armour, and Museum of Ethnology.
Let me catch my breath.
That's why it didn't fit the landscape frame of my iPad! A man next to me with a professional camera was struggling to take a shot of the whole expanse of the structure. I definitely can spend the whole day there. Or two.
It's right beside the Albertin

a

Museum and Butterfly House and overlooked the green.
The Imperial Tropical Butterfly House is again part o

f

the Hof

burg Palace

. It was the private

turf

of Kaiser Franz Joseph. Inside are hundreds of colourful butterflies flying freely around a simulated rainforest environment. Attached to it is a brasserie. It was tempting to pig out and use the beautiful surroundings and salubrious weather as an excuse but the rest of Vienna's sceneries awa

it.
The Albertina showcases 65,000 drawings

and 1 million old master prints.

I

have

yet to see at least o

ne!
Views atop and from the Albertina
To give you an idea what we've only seen so far despite this being the 3rd installment of

my accounts of the trip

, take a look at this guide.
We have ticked numbers 1-2, 5-7, and 8-9 (see t

he encircled areas)

. The list goes up to 19 and this is only at the Hofburg which is only 1 of the most prominent tourist spots

in

Vienna. We've only ever s

een the outside of all those ticked!
Mr T and I had to take a break. The hunger pangs called for Austria's national food: Wiener schnitzel.
B

etween us, Mr T has a more discriminating palate so he wanted to try the best schnitze

l the whole of Vienna can offer. And it was his birthday weekend so he takes the shots.
Figlmüller
always topped the list

online.
My very first Wiener schnitzel, much bigger than my plate and my face

!

The tux-

clad

waiter who looked like he's been with them since it opened in 1905 really had to give me the bigger portion. Mr T didn't object. Or swapped plates. That's the gentleman that he is; he won't disagree with me in public.
Johann Figlmüller opened a wine bar in Wollzeile off St Stephen's Cathedral (a wine bar next to a church?) and served schnitzel as it's traditionally made. Click here to find out about the other ingredients and how schnitzel is prepared.
It's always accompanied by kopfsalat or potato salad or parsley potatoes with sweetened vinaigrette dressing.
T

asty as it was

,

the Asian in me was secretly

craving

for some kind of sauce. Japanese mayonnaise maybe? Or garlic aioli? Or Heinz ketchup?
The walls of
Figlmüller were adorned with framed old newspaper clippings from before and after WW II, featuring the eatery and its competitors. One read that during the war, schnitzels were further stretched and flattened to give the impression to customers that they're getting their money's worth. Makes sense as other schnitzel versions look more like breaded chic

ken.
I would have settled for an Erdinger but only
Figlmüller-made wine was served.I had a dry white but was more impressed

by

the quaint little

pitcher

it came in. The serving was just the uni

t a woman is allowed a night.
One of the 'enclaves' in the flagship eatery in Wollzeile. I'm quite impressed because no one looked up when I took this photo! A photo opp couldn't pry them away from their schnitzels. I'm not sure if this is part of the original building. I couldn't ask the waiter as his English was basic and my German

didn't exist at all.

It had the look and feel of an underground members only schnitzel club. So busy you have to book even on Tuesdays. We were told to come back because we didn't have a reservation but the same waiter sensed that we were too famished to go on, only a helping of schnitzel can bring us back to li

fe.
Besides he couldn't resist our Puss

-

in

-

boots

-

pity-

me look
.
source: wreporter.com
Mister, can we have some schnitzels, pretty please?
We were stuffed we had no room for dessert. So I'll leave it for now, and next post you'll be having sweets with me (you can have Mr T's

portion)

plus a little bit more food and sightseeing, side stor

ies

and ye

s

we'll listen to some live music!
See yah x