One of the most difficult things to do when you're holding down a

9-to-5 job is to keep stimulating your imagination. It's like nervously anticipating the arrival of a blind date. You never really know what you're gonna get or if he will turn up.
photo credit: men.webmd.com
Waiting. Hopefully not in vain.
You anxiously wait for spurts of creativity and when ideas come, they don't even knock. They're like

bulls

that barge in, st

ampede

and pile up on top of each other, and you're left to wee

d out

which one to pull out first for the whole herd story to survive.
photo credit: dynamichedge.com
Ideas sometimes arrive like bulls on a stampede.
The past couple of weeks have been particularly a struggle to come up with anything worth mulling about as I was mentally out and about but physically grounded. Add to that, my internet at work was intermittently shutting down, I was disconnected from the virtual world that opens my muse

.
Needless to say, I was wor

n out.

One

night, I slumped on the sofa and promised myself a few minutes of slumber. My few minutes stretched into a few hours. The window was behind me and I looked up to see that the sun was ab

out to shine.
Yet again, I had a sofa moment. You know when some people have a lightbulb moment in the middle of evacuating the excesses of gastronomical hedonism

,

or when meditating under the shower? I get that as well, plus for some reason, occasional uninterrupted sleep on the couch gives me a physical and phrenic buzz that I feel I'm ready to conquer the world again. Or at least put some silly thoughts into writing.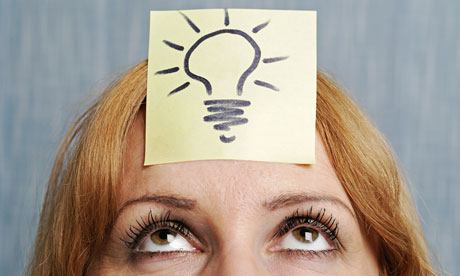 photo credit: guardian.co.uk
Th

at

moment when the bulb lights up.
Extending Your

Comfor

t Zone
So what is it with a sofa that

revives me?
I'm convinced it's not a unique experience to me so I googled to check if someone has ever written about the joys of curling up in the sofa when you're supposed t

o be in bed.
photo credit: inspir3d.net
A giant sleeping cat couch. Cats at their best as we know them.
Interestingly enough, there are people very concerned about their sofa-sleeping habits that it is discussed at great length via mental health forums or depression central.
Others share tips on how to sleep on a couch (which to me is as long as you're not standing on it), how to get a good night's sleep on the couch (ending up on the couch is supposed to

be not

premeditated; you've been relegated

to it
if it was), or how to choose the best sleeper sofa (again, premeditated).
Is it safe to sleep on the sofa? Is it safe to sleep on the sofa permanently? Can sleeping on the sofa ruin it? These are just some of the questions I came across online which I couldn't believe had articles written about. How can someone come up with a 1,500-word piece on question #3 when the simple answer is YES, you can ruin it in the long run. Couches and sofas are not here to make beds obsolete.
I think that we end up dozing off on the sofa much quicker than catching up with some sleep on our bed, because the so

fa

serves other than it's expected purpose. In bed, we consciously force ourselves to sleep when we can't because that's the main reason we are in bed (with other in-between reasons withheld). On the sofa, we allow ourselves to zone out while watching TV maybe after dinner. That's when you

're

hit by that kind of sleepiness you onl

y

get at work after lunch. But

you can indulge yourself at home and not require the customary cup of coffee to wake you up.
photo credit: ikea.com
Eat out for a change.
I believe the same purpose-expectation

relationship

I made up applies
to having lunch on a balmy day on your dining table. It feels more celebratory and relaxing once in awhile if everyone gathers in the garden or lanai or conservatory to dine.
photo credit: prevention.com
Calmly s
leeping like a baby.
On the sofa, you squeeze yourself into the innermost corner as if you're cocooning yourself. It's almost recreating that space in our mother's womb where we first felt safe--not in the sprawling cot we were upgraded to af

ter the first three months in a Moses basket.
Sofa or Couch?
So whether you call yours a sofa or a couch

,

the odd voluntary downgrade bumps up mental and physica

l

well-being and creativity.

It pays to have a breather sometimes.
That said, I'm takin

g a break away

from my work desk

. And my couch.
And

British

weather.
I look forward to looking fo

rward to coming back.
Have a good week ever

yone!