"People always ask me how long it takes to do my hair. I don't know, I'm never there."
-Dolly Parton
The scheming underhand lover that she was, Delilah brought Samson down to his knees by s

having

away the root of his extraordinary strength: his hair.
It is of course allegorical, as with most biblical stories, but a person's crowning glory does hold a multitude of psychological and physical metaphors.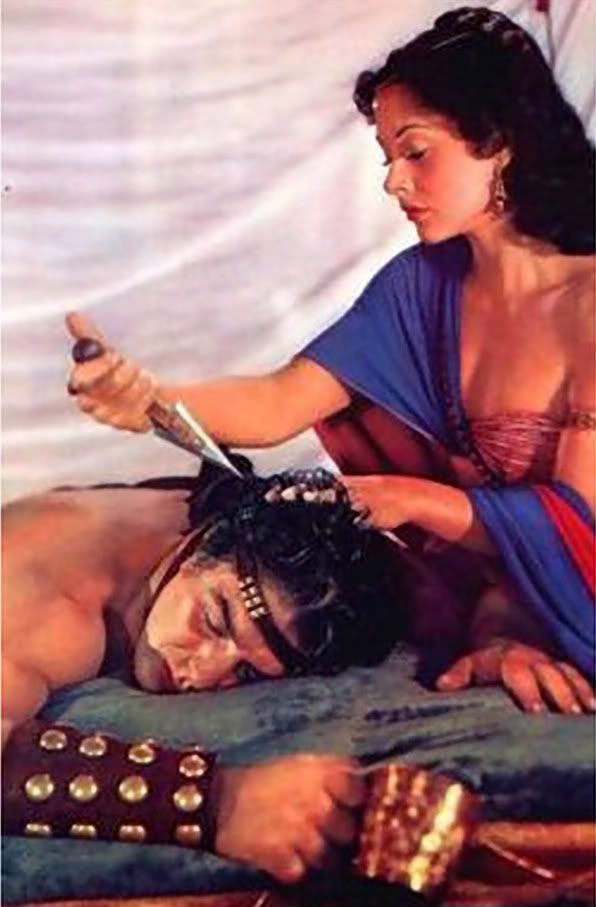 source: s292.photobucket.com
Samson wasn't even made to choose a hairstylist.
source: justjared.com
"WANTED: DEAD OR ALIVE: RAPUNZEL for horse thieving, kidnapping, jail breaking, and using her hair in a manner other than nature intended!"-
Shannon Hale, Rapunzel's Revenge
Jennifer Aniston's hair is as famous as the owner. Her hairstyles over the years can make up a whole issue on styles for medium to long-len

gth

hair

for

a colour and cut magazine.
source: aveleyman.com
Remember Soul Glo ad from the movie 'Coming to America'?!
The Long, Short, and Thick of It
I've had my long naturally straight dark

brownish hair for as long as I can remember. I've only had two short haircuts in my life; the first one left a permanent grumpy mug shot on my first passport photo, and the second made a nun in my old girls' school question my sexual orientation. You shouldn't judge a person by his or her haircut

--

but she did

--

and we all do.
source: lang-8.com
My hair....oh sorry, wrong photo.
My hair, like every other woman's hair, is my comfort zone. It keeps we warm in winter and ridiculously

warm

in summer. It's down or up depending on what I wear, what my makeup palette is, or my mood. It's been curled, permed, bundled up, twisted, plaited, dry-shampooed, dyed, tied
,
blown-out, tinted, layered, highlighted, and yanked when it

's being stubborn.

For occasional treats, my hair gets a fringe (

'bangs' if you prefer).
M

y long hair and I have been through hell and hot and cold water toget

her

, the thought of chopping it off feels like ending a relationship or stripping myself of confidence, or even

casting

unnecessary discomfort. The attachment is that silly-strong that one of my oldest possessions is a Goody wide-tooth comb that I've

ha

d since I was 18.
My Goody comb that's been

detangling

my hair for 18 years. Two more and it's vintage!
I'll blow my own trumpet and say that I do take pride in my long shiny t

resses

(not as shiny on the photo). It is cumbersome at times, but it is

incorrigible

human flaw to fault-find. I'm very lucky to have a wash-and-go full mop of hair. But there are people who have

n't been extended the same favour.



Locks of Love
My youngest sister and I share the same hair genes and 'hairtitude'.
My hair reappears on another courtesy call; my sister's on the right.
Like me she only ever goes for the occasional trim to freshen up the look. Any cut abo

ve 2 inches

gives a sensation of a phantom limb. So

for her to go under the scissors for 10 inches is not only radical but brave. As I can't muster the bravado yet, I am vicariously sharing her altr

uism.
Locks of Love
On her 27th birthday a few weeks ago, she decided to celebrate by having her beautiful long hair cut--all 10 inches off--to donate to a foundation that makes

hair prostheses

for children who lost their hair

due to

cancer or other

long-term medical

treatments, or alopecia, which affects 4.7 million people in the US alone.
source: tanglewoodhair.com
L: A little girl suffering from alopecia, an autoimmune disorder where the hair follicles stop functioning; R: Another girl suffering from trichotillomania, a compulsive urge to pull hair.
Locks of Love, based in Florida, is a non-profit organisation that provides hair prostheses to financially disadvantaged children below 21 years old in the US and Canada. An individual hairpiece retails between $3500 and $6000. They welcome donations of ponytails (the recommended way of cutting the hair donation) of at least 10-inch long to make a chin-level piece. One hairpiece requires 6-1

0 ponytails.
My sister's ponytail donation.
On Locks of Love website, the process of hair prosthesis production is described as follows:
"When a child is accepted into the program, the manufacturing process begins. A molding kit and instructional DVD are sent to show parents how to make a plaster cast mold of the child's head. From this mold, a plastic fitting cap is made. This custom fitting cap is what provides the vacuum seal function. The child is able to choose the color and length of the hair they would like as well as the skin tone color of the silicone base. Each prosthesis requires between 6 and 10 ponytails and each strand of hair is hand injected into the silicone base up to 150,000 times. Once the prostheses are provided, each child may style it to compliment their facial features. Children ages 6 to 21 can reapply for a new prosthesis every 18 months"
As the hairpiece is vacuum-sealed, you can do away with glue or tape. The children need not worry about others bullying them and pulling the hairpiece. Because it is the closest concept to having a hair transplant, children can use it for leisurely activities such as swimming or routines such as having a shower.
To view the recipients of Locks of Love, click here.
If you would like to donate or organise a donation and fundraising event in your area, please click here for the rules and guidelines.
source: metalmouth.net
In the UK and Ireland, the Little Princess Trust works with specialist suppliers and hairdressers who provide wigs that have the closest possible likeness to the hair of children undergoing cancer treatment or those who suffer from alopecia.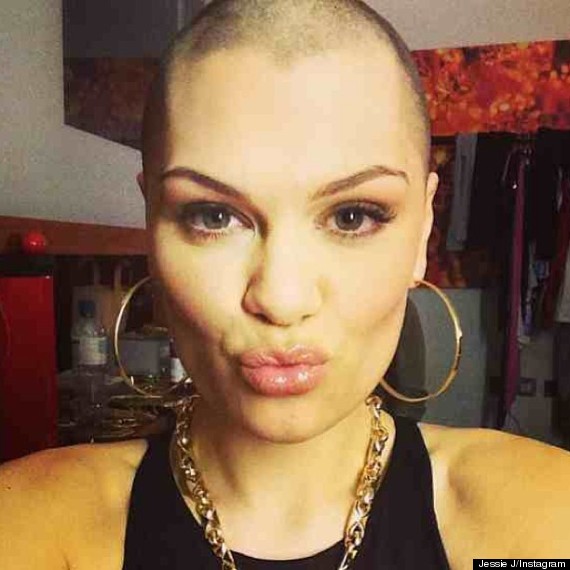 source: huffingtonpost.co.uk
Singer Jessie J had a number one for Comic Relief 2013 for the benefit of Little Princess Trust. They only require a minimum of 7-inch ponytails if you decide to go less drastic than Locks of Love's requirement. Cash donations are also welcome via personal contributions or fundraising events. Last year, Little Princess Trust raised £5300 which

will allow

them to purchase 15 wigs to be allocated to children in need.
To find out more about the charity and visit their photo gallery, please read here.
My New Hair, a charity founded by Trevor Sorbie, provides information and advice regarding a network of wig styling professionals for women suffering from hair loss due to cancer and other medical conditions. Trevor says that giving women back their hair is the missing link in their treatment.
If you know someone who may benefit from their services, find out more here.
Going Bald on St Patrick's Day
source: activerain.com
In 1999, three Irish-American reinsurance executives from New York turned their St. Patrick's Day celebrations into a head-shaving charity event for paediatric oncology research. Now regarded as the world's largest volunteer fundraiser for childhood cancer research, the foundation has so far raised $118 million through 4,200 head-shaving events that have seen 190,500 heads go under the razor in 50 US States and 28 countries.
If you want to be a shavee or find other ways to help, read here.
Sister Act
It's not a myth that women go for a dramatic change in hairstyle to banish the remnants of a love gone sour or to mark a milestone. To others, the milestone is reclaiming

their

self-confidence

,

sel
f-esteem, and normalcy by

not having to see first thing in the morning
when they look at t

he mirror

a bare flesh of a head

.
I'm sure there are people out there who wouldn't mind having a bad hair day at all.

Oh, if you're won

dering what happened to my si

ster

?
Tada!
Before and After
Lovely, isn't she?
Off this goes to the

family photo wall of fame...